What Is Mountain Biking?
Mountain biking incorporates similar skills and learning outcomes to other forms of cycling, with the main difference being the equipment used. That is, the bikes are robust enough to cope with more varied terrain and off-road and off-path use.
Why Teach Mountain Biking?
Develop safe and independent cycling behaviour
Help students establish a link between fun and exercise
Use as a novel form of transport between expedition campsites
Offer an alternative to traditional team and ball sports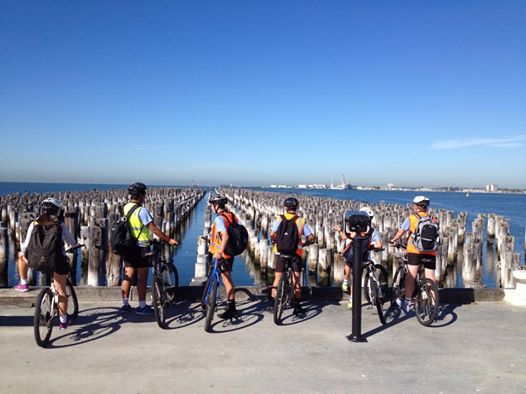 The possible learning outcomes and aims of a mountain bike activity or program are many and varied. Cycling Unlimited has activities available that include:
Our Mountain Bike Skills Sessions are a great way to improve on rider safety and confidence. Our experienced MTB Guides offer programs for groups of up to 20 participants in and around Melbourne as well as Country Victoria. All our sessions start off with a rider safety briefing and basic bike handling skills exercises to establish the abilities of the group. We will then work on cornering skills, body position on the bike, gear selection, safe braking and riding over obstacles.
Who is Mountain Biking for?
Our mountain bikes and programs are ideally suited to students between Year 7 and Year 12.
What are the aims of a mountain bike activity?
Build riding skills and improve on existing bike skills
Improve rider confidence
Promote safer riding behaviours
Visit areas unreachable by bus
Have fun
Our hope is that our enthusiasm for mountain biking is infectious. We ride bikes not only for our livelihood but for recreation and we also train and race for sport. We hope that this passion for mountain biking has been reflected in the programs we've designed and provided for school students over the last eight years.
Our bikes
Cycling Unlimited keeps a large fleet of very good quality mountain bikes. These are replaced regularly to ensure the fleet is up to date and bikes are riding like new. The bikes feature hydraulic disc brakes, suspension forks and more gears than you need.
Program structure:
Due to the infinite variety of school requirements each program is tailor made to suit each client. Consideration is given to all relevant factors including group size, age and ability, location, session duration, budget and desired learning outcomes.
Economies of scale apply for programs whereby participant cost can be reduced for regular activities and large groups.
Please feel free to contact us to discuss a custom designed bike program for your school.
Incursions:
We'll come to you and run an in school bike safety program, on school grounds, with all equipment provided. Fun, educational, healthy, and safety based.
One Day Adventures:
Let us take you on a ride in Melbourne's Inner Metro area and explore local sights around Docklands, Southbank, South Melbourne, Port Melbourne as far as St Kilda. Another option is a mountain bike group ride along the Yarra River Trails, or explore challenging single trail at You Yangs Regional Park or Lysterfield Lake Park.


All participants will be equipped with a Mountain bike and approved Bike Helmet at the outset of the session. All that is required is comfortable tight fitting clothing preferably in bright colours for rider safety.
Multi-Day MTB Expeditions:
Let us take your group on a multi-day MTB camp and explore areas such as The Great Dividing Trail, Mt Baw Baw, Thompson River area, Falls Creek etc. Our programs include qualified and highly experienced MTB guides as well as mountain bike and helmet hire for all participants. We can also arrange camping equipment, transport to and from start and finish location, and full catering.